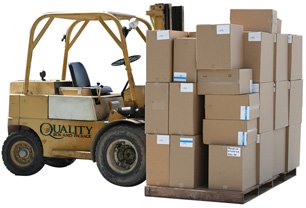 Inventory Management:
At Quality Box and Package, we provide more than just manufacturing of quality boxes and packages. While other manufacturers stop at the printed product, we go further providing a robust Inventory Management and Ordering System.
Instead of struggling with out-of-date lists and multiple information sources, our online Inventory Management System allows you to see your product inventory and reorder levels LIVE at a glance. You can easily adjust reorder levels, plan drop-shipments to fulfillment centres or multiple delivery targets, track shipments, and even automate your product inventories so that you always have the right quantity on hand, without being too high or too low on inventory.
Our Inventory Management System can be custom branded for your use and your staff and to other links in your supply chain, allowing you flexibility in management and organizational control. The larger your needs, the more effective it becomes, allowing you to manage all of your products and inventory in one place, or assign specific products or product groupings to designated staff, and set product re-order levels for automatic reminders and re-orders as required.